NEW INCLUSIVE WHEELCHAIR SEESAW UNVEILED IN VICTORIA PARK
Newbury Town Council has installed a new inclusive seesaw in Victoria Park with the help of a £10,000 grant from the National Lottery Community Fund.
Children from the Keevil Unit at Speenhamland School were the first to give it a try on 24 November when the Mayor of Newbury, Cllr Gary Norman officially opened the new facility.
The seesaw will allow children who are wheelchair users the chance to enjoy Victoria Park alongside the already existing accessible roundabout. The seesaw is one of only three in the UK!
Cllr Gary Norman said, "This is a great addition to the great facilities we already have at Victoria Park. As a Council, we pride ourselves on doing what we can to be more inclusive. We hope that this new piece of equipment will encourage families that have wheelchair users".
Marley Clough-Culliford & Aaliyah Proctor from the Keevil Unit at Speenhamland Primary School were one of the first children to have a go and were overjoyed at the new addition saying that they're likely to come to the park more often with their families "10/10, better than Maths & English!"                                                                                                   
The Council are providing more inclusive playground equipment in the existing playground in Victoria Park, so that all children can enjoy the park and playground, no matter their physical ability.
Although this new equipment can be used by all, this project will make a substantial difference for children with limited mobility and wheelchair users and is an additional improvement to the playground which also has an accessible roundabout.
Cllr Sarah Slack, Chair of the Council's Community Services Committee, said, "The very generous funding received from the National Lottery Community Fund, made the provision of this new equipment possible. We would like to send our most sincere thanks to them for supporting us to ensure that all children can play, have fun, and build relationships with other children regardless of their physical abilities".
Contacts:
Cllr Sarah Slack, Chair Community Services Committee sarah.slack@newbury.gov.uk 07970 790808
Hugh Peacocke, CEO Newbury Town Council hugh.peacocke@newbury.gov.uk 01635 35486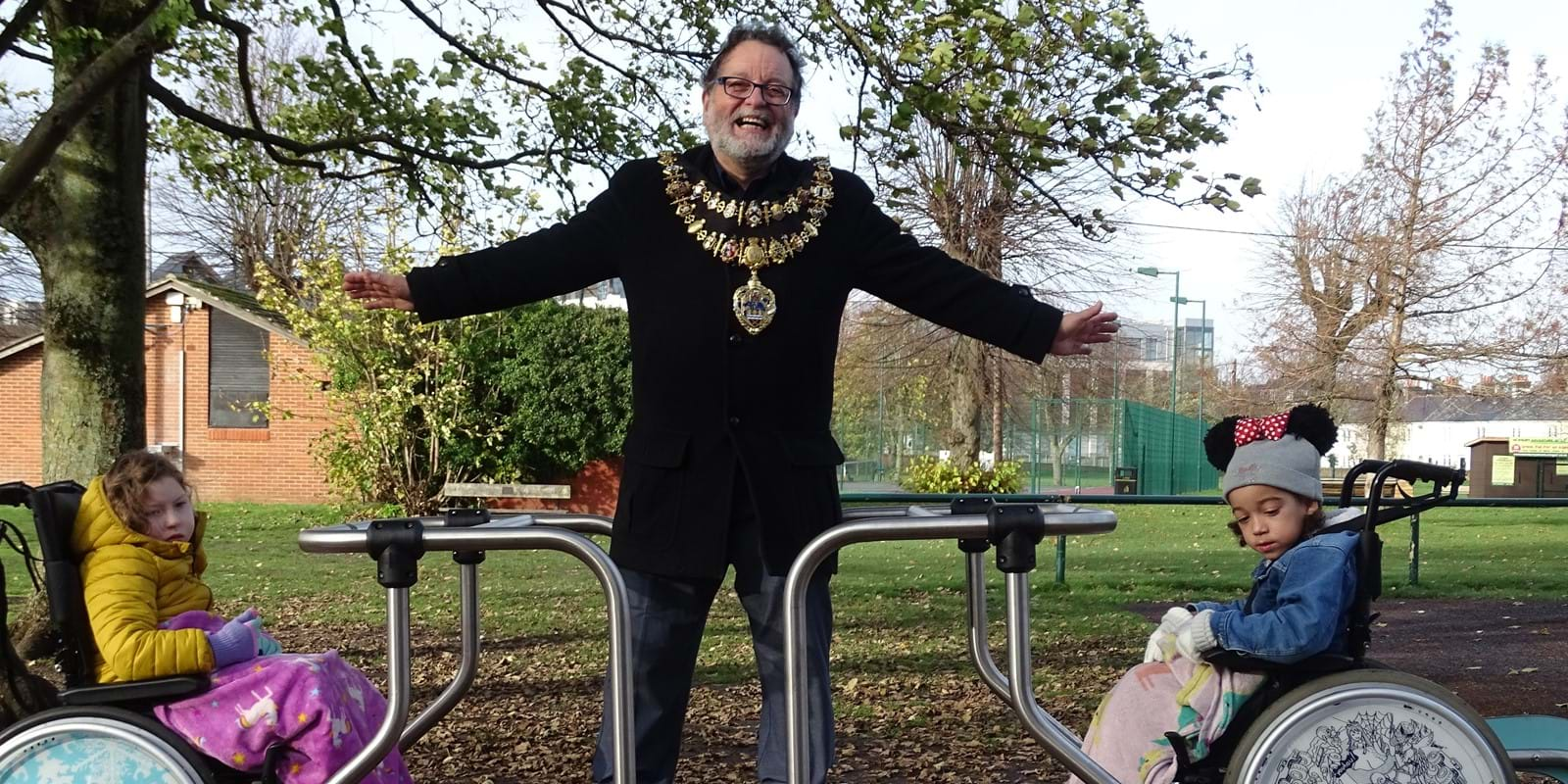 Mayor of Newbury Cllr Gary Norman with Marley Clough-Culliford & Aaliyah Proctor from Speenhamland Primary School