TOWN COUNCIL SUPPORTS CITIZENS ADVICE
Citizens Advice West Berkshire (CAWB) told the meeting of Newbury Town Council on Monday 27 October that the Cost of Living Crisis was having an impact on residents in Newbury.
Ms. Isabel Esperanca, Chief Officer of CAWB, said, "We are seeing an increase in demand for charitable help and food bank vouchers, rising levels of fuel and Council Tax debt and increased demand from over 65's struggling to survive on their pensions. Even clients in the middle-income bracket tell us that they are struggling to pay their bills and are getting into debt. We are working closely with other local organisations to support residents to meet the challenges of the Cost of Living Crisis."
The Mayor of Newbury, Councillor Gary Norman, thanked CAWB for all that they do to help residents in Newbury before he and the leader of the Council, Councillor Martin Colston, presented Citizens' Advice West Berkshire with a cheque for £20,000.
Ms Esperanca continued, "We are hugely grateful to Newbury Town Council for their continued support and for their very generous donation. Last year, we helped 688 residents in Newbury wards with 4464 issues, which represents 40% more than last years. Thanks to this donation from Newbury Town Council we can continue to provide much-needed advice and support to residents in Newbury".
Anyone who is worried about the Cost of Living can contact CAWB by calling 01635 516605 or visiting www.citizensadvicewestberkshire.org.uk. Self-help advice is available at www.citizensadvice.org.uk.
Contacts:
Cllr Gary Norman, Mayor of Newbury gary.norman@newbury.gov.uk 07801 046115
Hugh Peacocke, CEO Newbury Town Council hugh.peacocke@newbury.gov.uk 01635 35486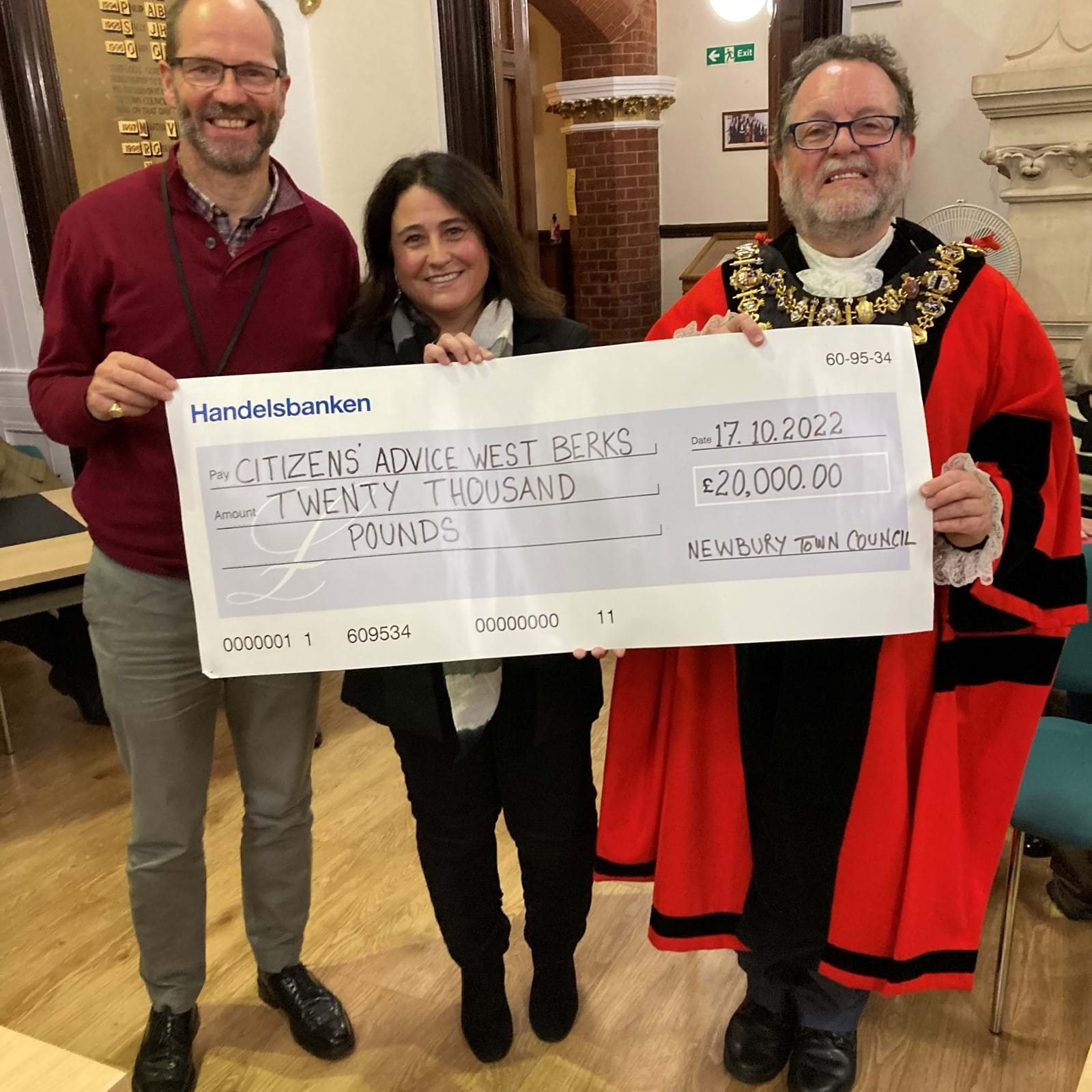 Cllr Martin Colston, Leader of the Council.
Ms. Isabel Esperanca, Chief Officer of CAWB
Cllr Gary Norman, Mayor of Newbury