NEWBURY'S 'BEST KEPT ALLOTMENTS 2022'
Newbury's 'Best Kept Allotment' awards were presented at the Town Hall Chamber on Thursday evening.  The Mayor of Newbury, Cllr Gary Norman, together with the Chair of the Town Council's Community Services Committee, Cllr Sarah Slack, presented awards to tenants who were judged to have kept the best allotment plots on each site. This year 19 awards were given out, including 'Best Newcomer', 'Best Plot', 'Best Schools Plot' and 'Best Site Overall'.
The plots were judged on a number of different criteria which included the overall visual impact, effective use of plot, produce variation, pathway condition and any special provisions for wildlife. The judges commended the efforts made by tenants, there were some 'bug hotels', 'bee tubes' and ponds so that amphibious creatures could thrive in the area which will increase biodiversity on the sites and, in turn, help the current climate emergency.  The judges were amazed at the ingenious ways that the allotment tenants utilised the space they have. 
A trophy was presented to Dave Cole, one of the joint allotment Stewards at the One Tree Park site, after they were judged to be the best site overall.  The competition was very close, but the One Tree Park site was judged to be marginally ahead of the other five sites, which were all highly rated.
An award was also given to Falkland Primary School who tend an allotment plot at Wash Common, presented to students Polly Nightingale and Lottie Lawton.
Cllr Sarah Slack, Chair of the Community Services Committee said, "Our allotment tenants do a wonderful job tending their plots which are a valuable form of exercise both physically and mentally.  There is so much variation, and all of our allotment tenants are to be commended on their efforts year-round.
There are around 550 plots in Newbury, ranging from large to small, with a variety of tenants, from people who have had a plot for years to newcomers and new families to the site who are so enthusiastic".
She continued, "We do have waiting lists for all of our sites, but some are shorter than others, so you might not need to wait for as long as you might think. If you would like to put your name down and have a go at 'growing your own' please contact us or visit our website https://www.newbury.gov.uk/services/allotments/
For full list of winners see below.
Contact:
Cllr Sarah Slack, Chairperson Community Services Committee sarah.slack@newbury.gov.uk 07970 790808
Hugh Peacocke, CEO, Newbury Town Council (Hugh.Peacocke@newbury.gov.uk 01635 35486
Newbury Allotment Award Winners 2022
BEST PLOT AT DAIRY FARM ALLOTMENTS
Under 5 Poles
Plot 6A – Mr Alan Cooper
5 Poles and Over
Plot 17A/B – Mr Glen Justin Greenough
BEST PLOT AT ONE TREE PARK ALLOTMENTS
Under 5 Poles
Plot 22c – Kevin & Penny Winter
5 Poles and Over
Plot 22b – Helen & Mike Weideli
BEST PLOT AT PARSONS ALLOTMENTS
Under 5 Poles
Plot 7 – Christopher Bateman
5 Poles and Over
Plots 29,30,31 & 32A – Sport in Mind
BEST PLOT AT SOUTHBY'S ALLOTMENTS
Under 5 Poles
Plot 87 B Nicola McDowell
5 Poles and Over
Plots 36 A/C and 43 B/C  Ann and Phil Shears
BEST PLOT AT WASH COMMON ALLOTMENTS
Under 5 Poles
Plot 17a – Jane Munday
5 Poles and Over
Plot 18 – Jayne French-Drayton
BEST PLOT AT WEST MILLS ALLOTMENTS 
Under 5 Poles
Plot 53b - Miss Alexsandra Stanisavljevic
5 Poles and Over
Plot 27 – Mrs Sonya Green
BEST NEWCOMER
Dairy Farm Allotments
Plot 6A – Mr Alan Cooper
One Tree Park Allotments
Plot 30 - Josh Hopkins
Southby's Allotments
Plot - 11B Alexandra Bull
Wash Common Allotments
Plot 36a – John Glencross
West Mills Allotments
Plot 42a - Mrs Rovena Mehmetaj
Best Schools Plot
Falkland Primary School, Wash Common
BEST SITE OVERALL
One Tree Park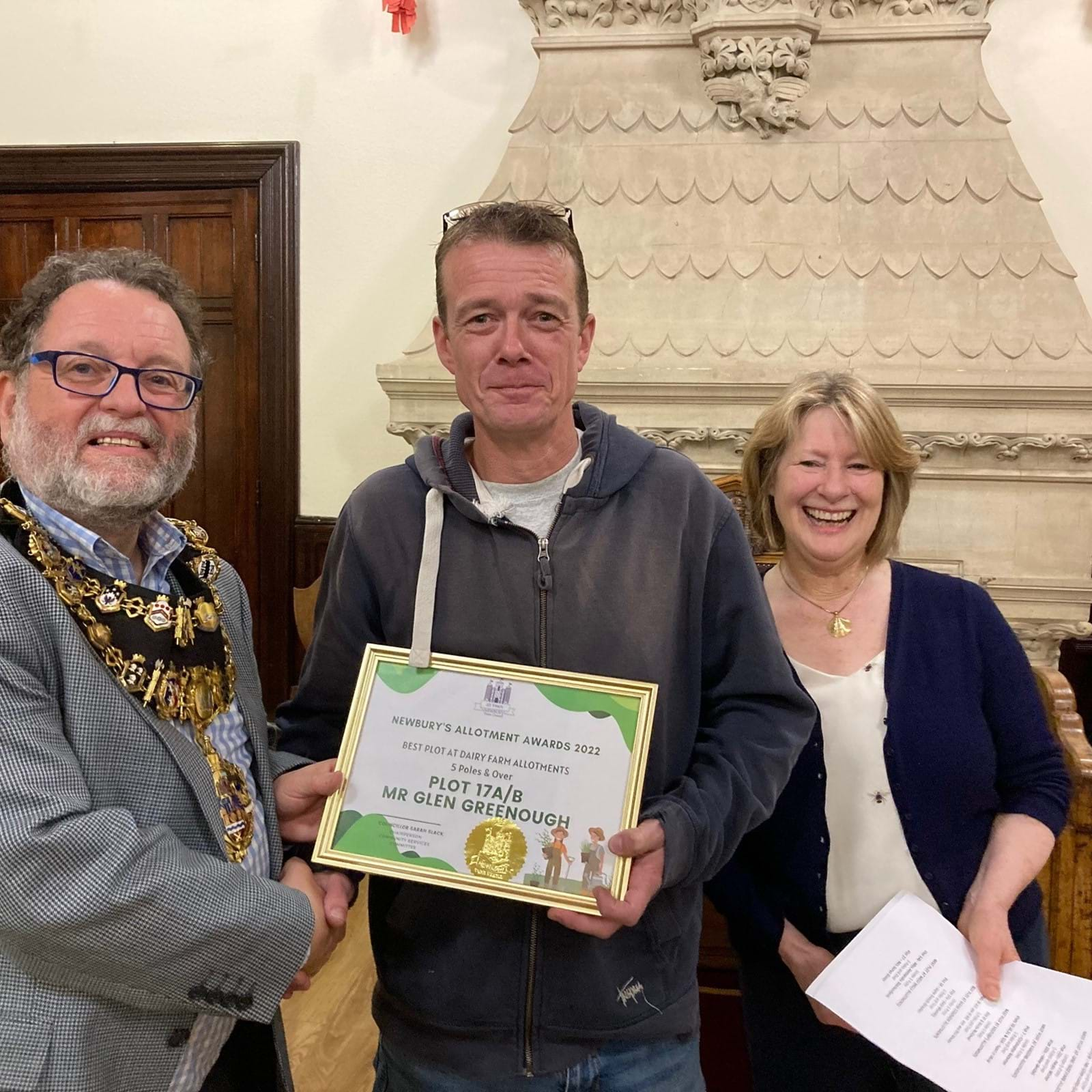 Mr Glen Greenough Dairy Farm plot 17a/b
Best Schools Plot - Falkland Primary School
Photo: Students Polly Nightingale and Lottie Lawton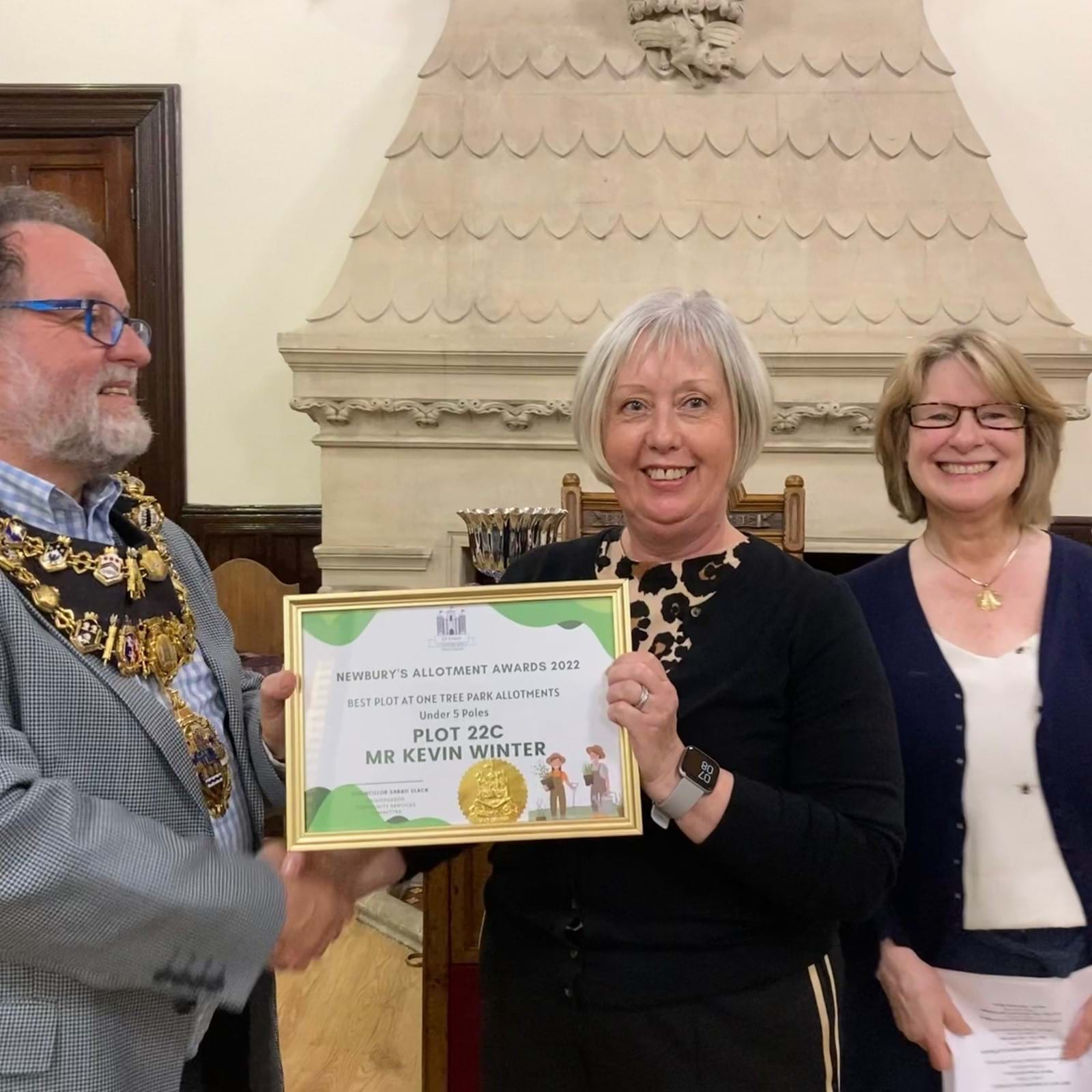 One Tree Park Plot 22c Penny Winter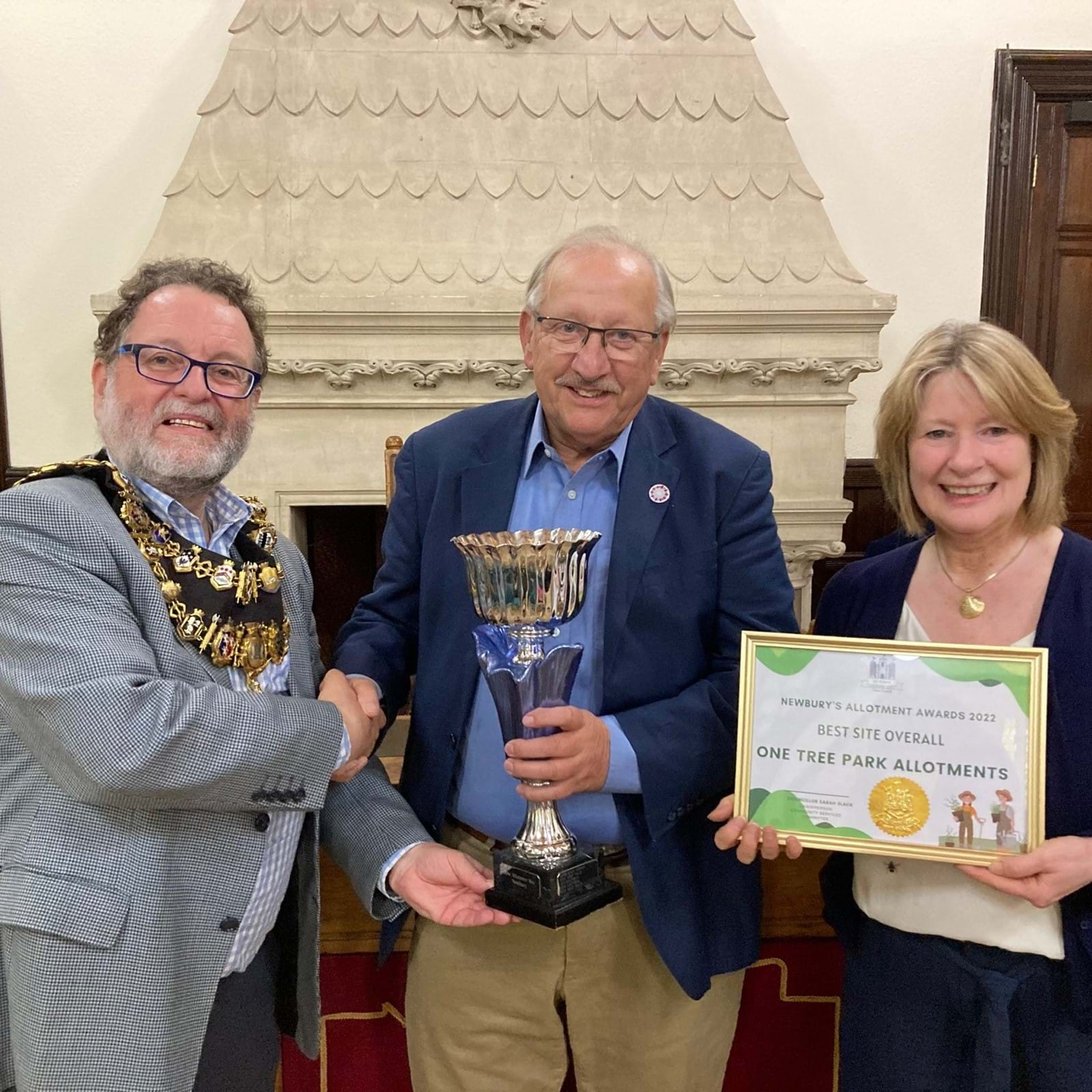 One Tree Park - Best Site Overall - Allotment Steward Dave Cole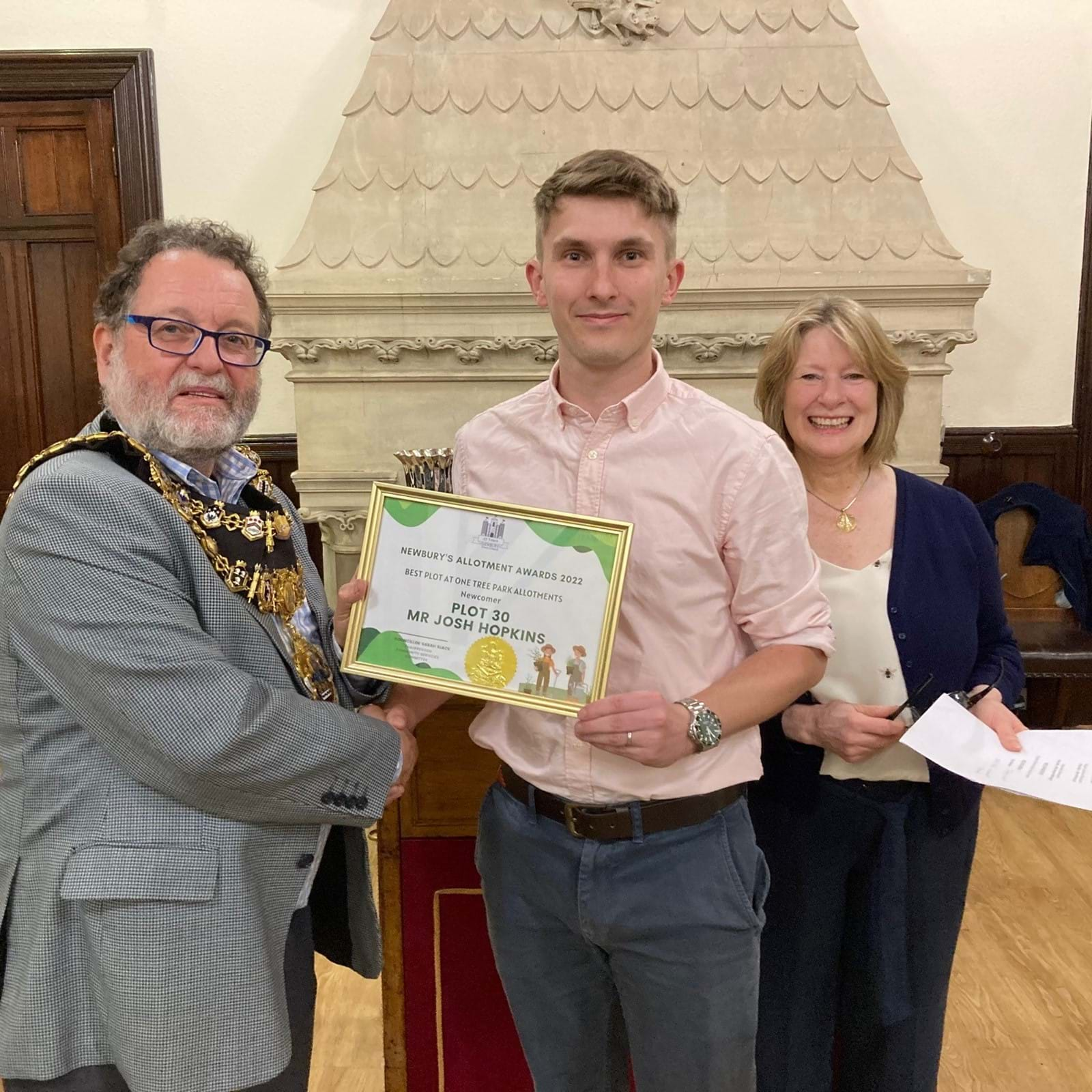 One Tree Park plot 30 Josh Hopkins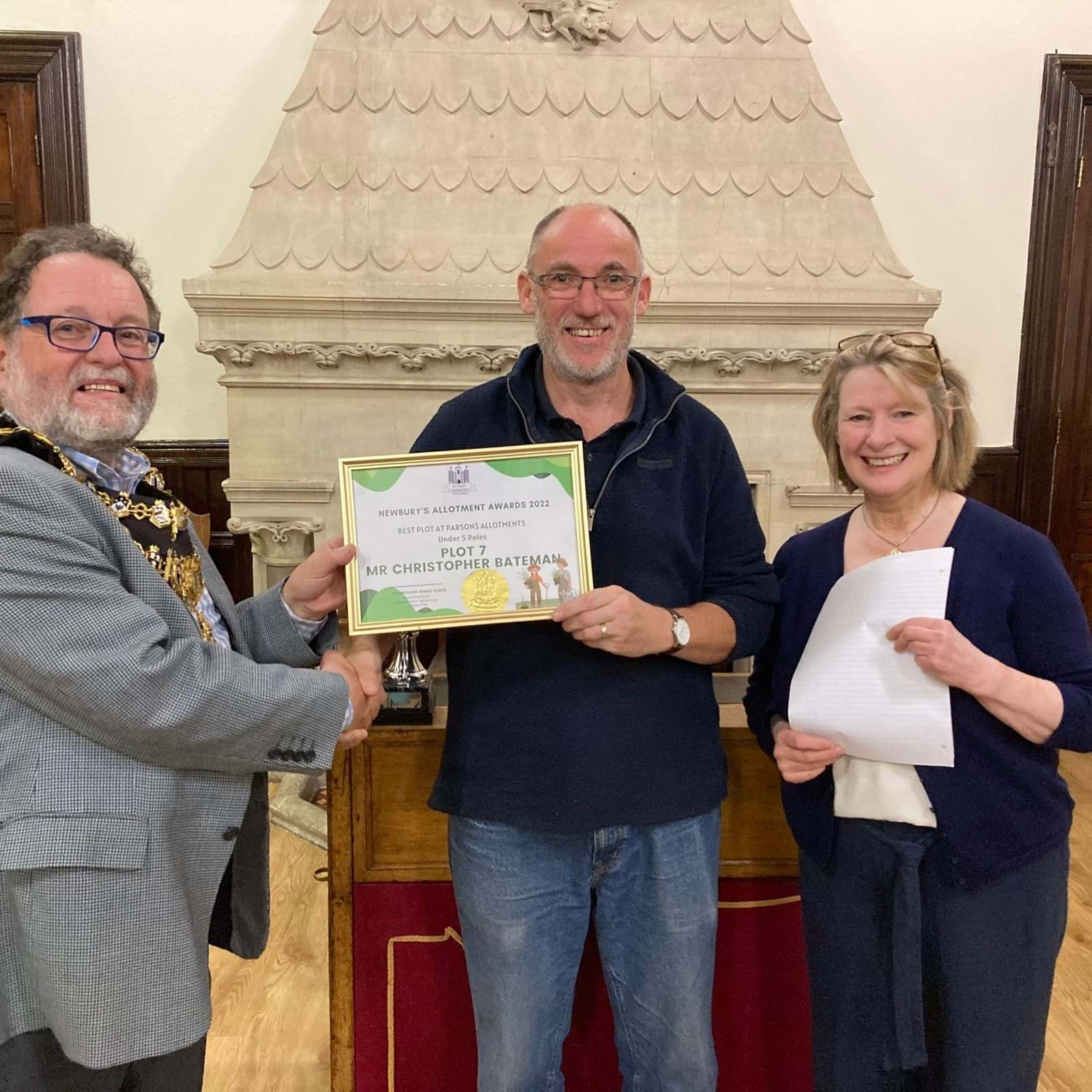 Parsons Plot 7 Christopher Bateman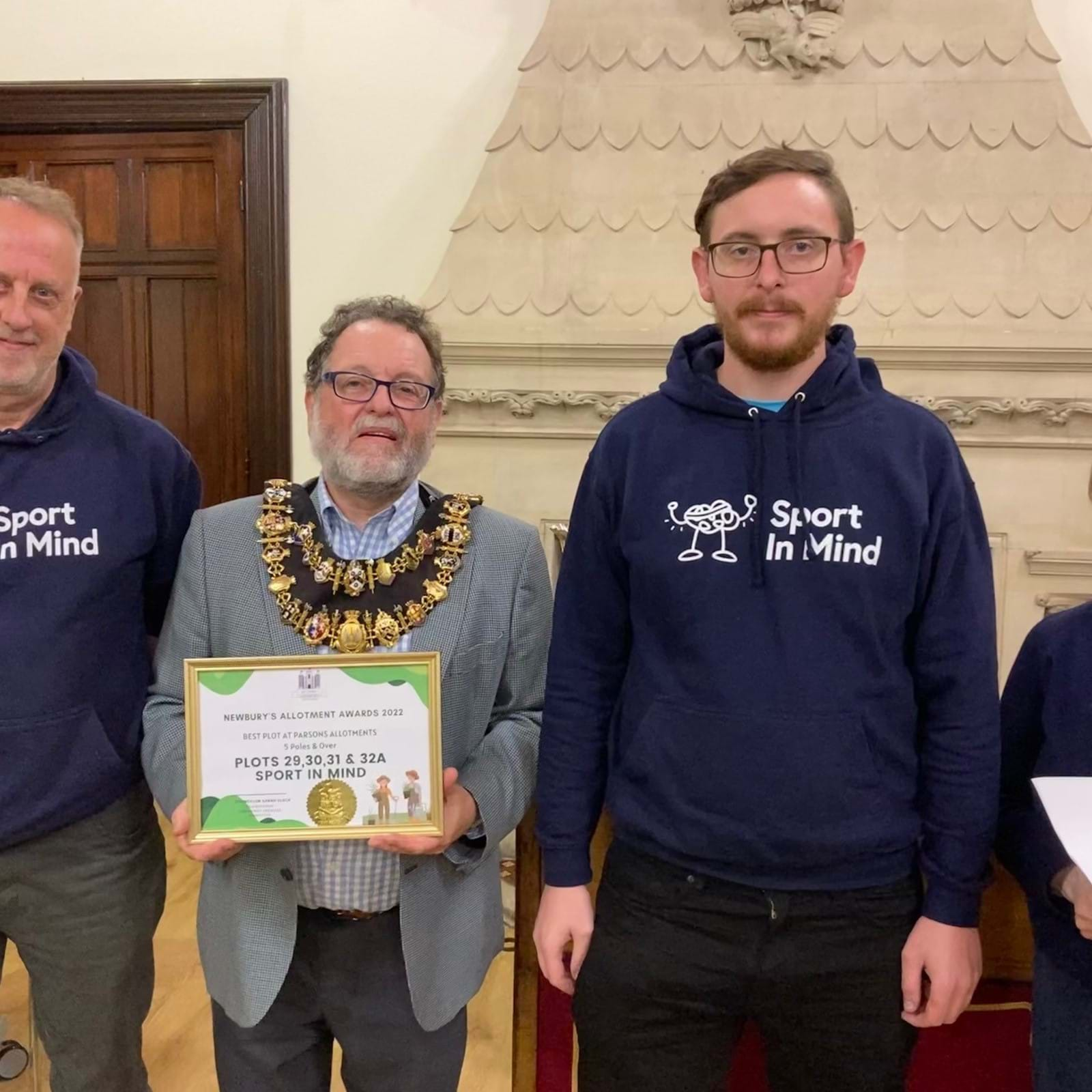 Parsons Sport in Mind - Tony Young and Christopher Burnett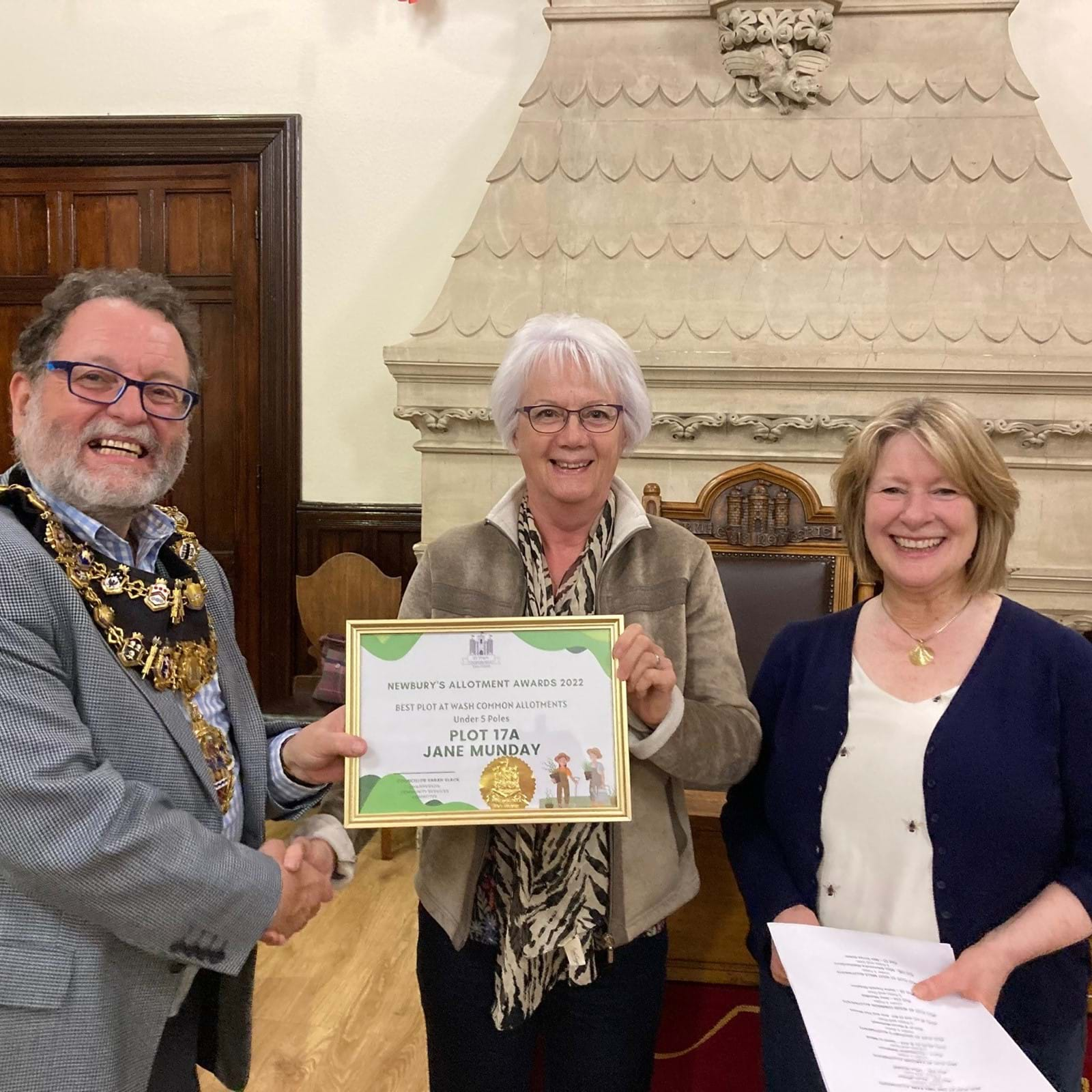 Wash Common plot 17a Jane Munday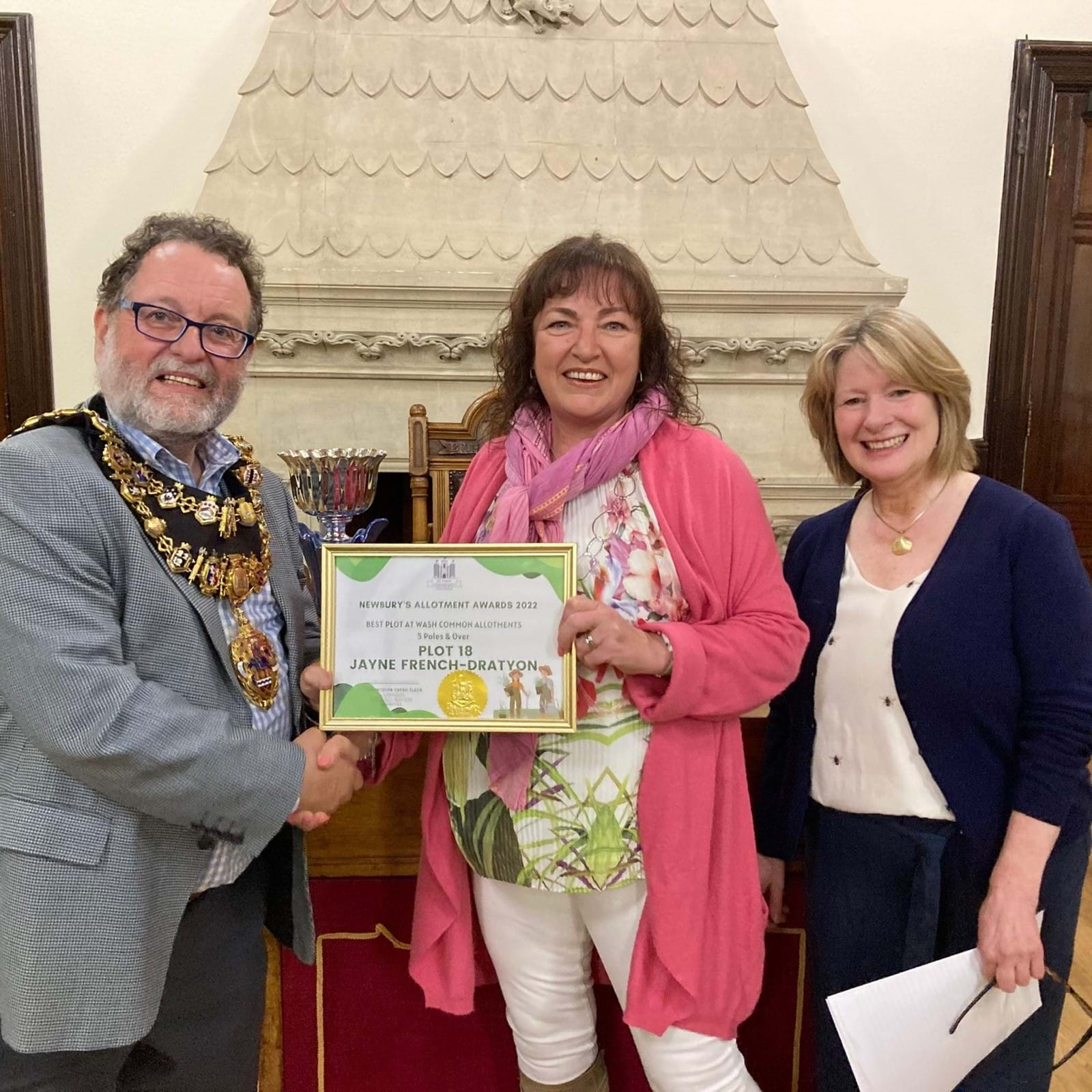 Wash Common plot 18 Jayne French-Drayton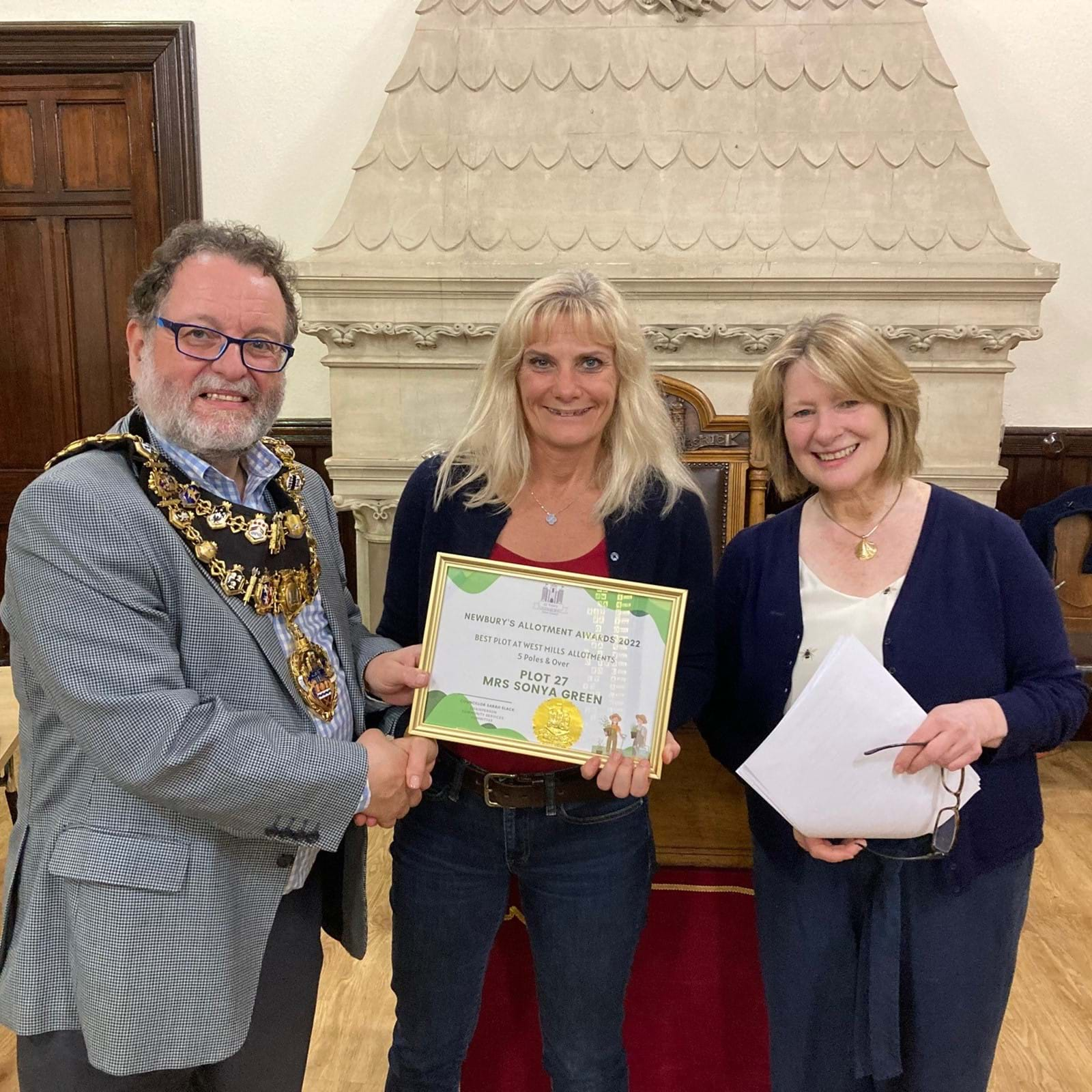 West Mills plot 27 Sonya Green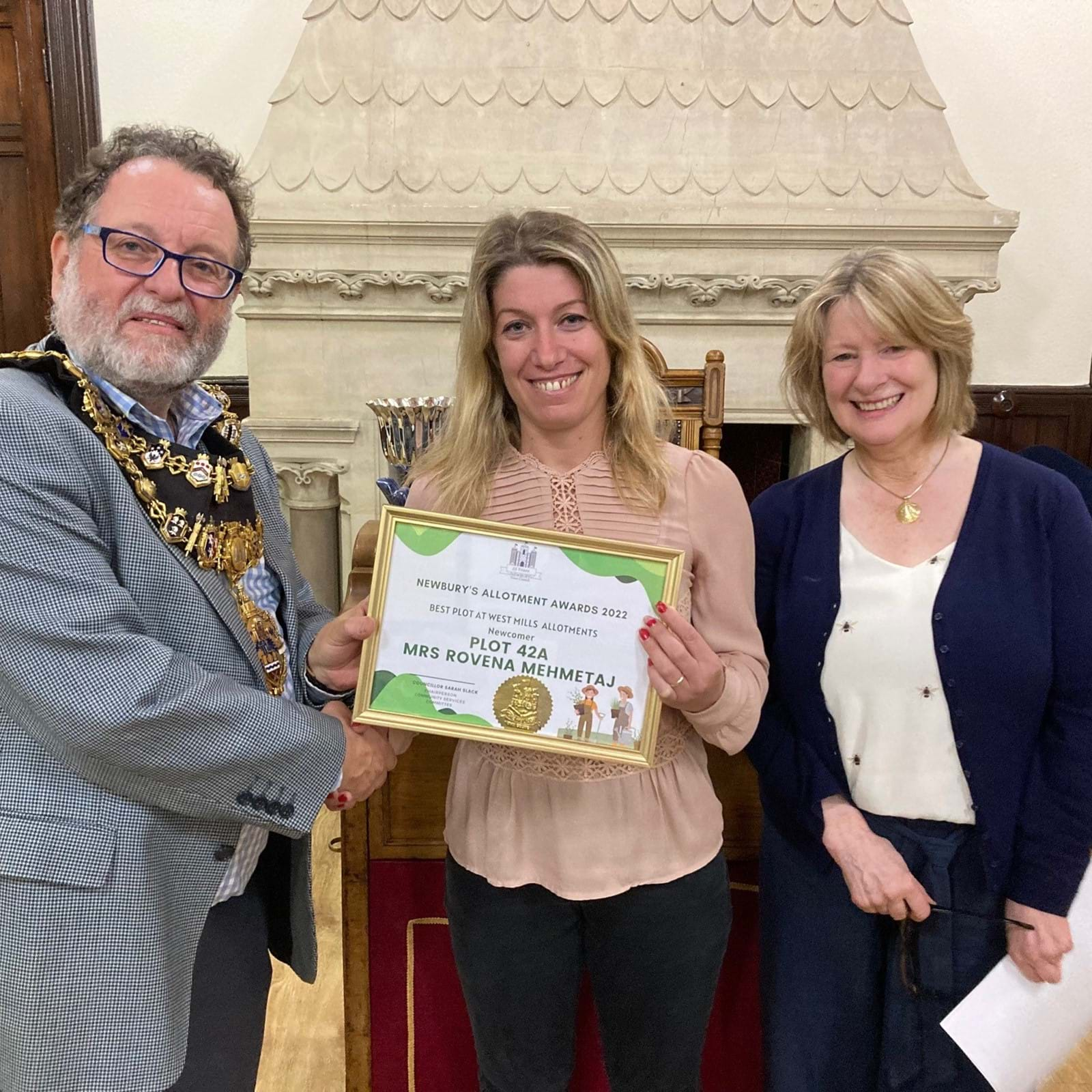 West Mills plot 42a Rovena Mehmetaj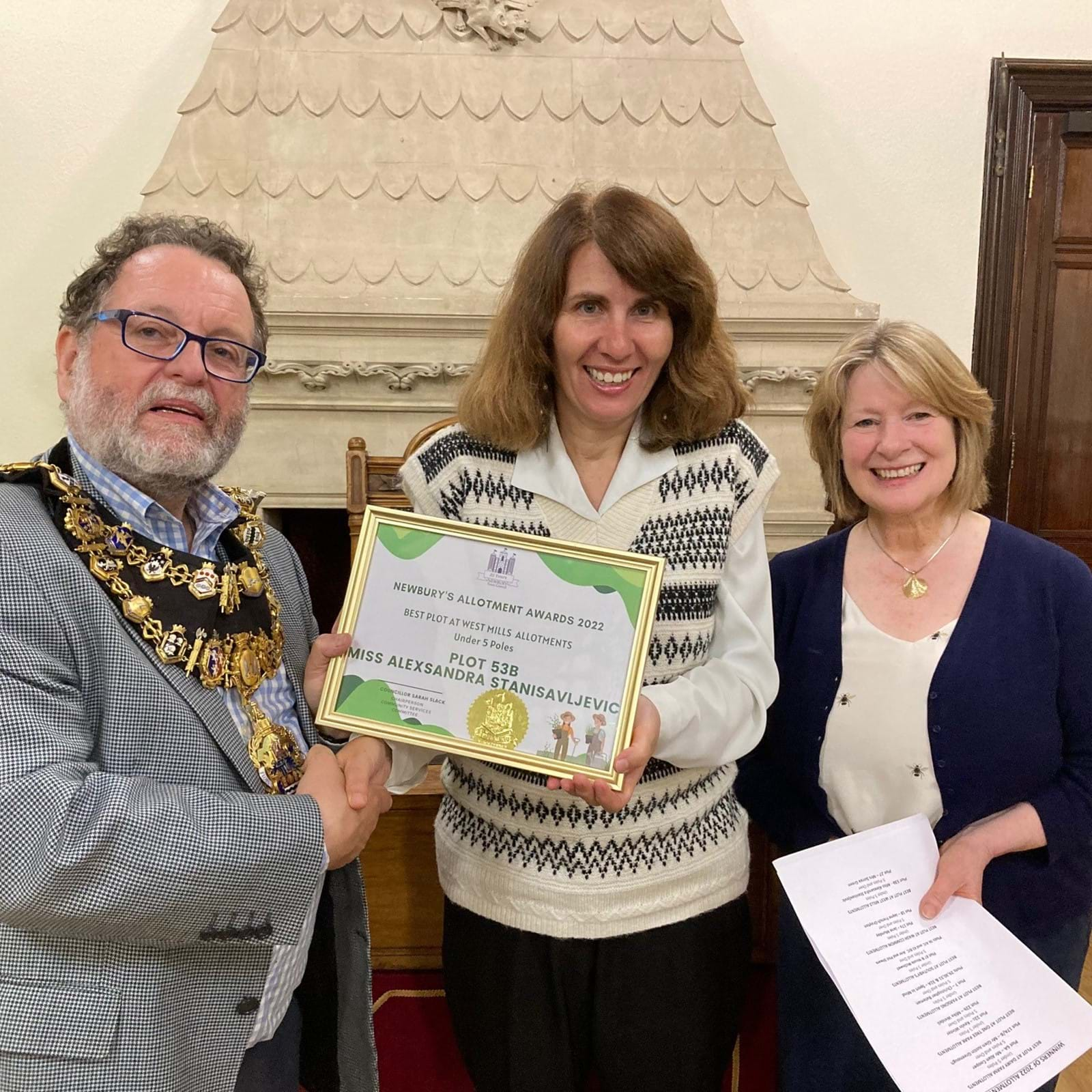 West Mills plot 53b Alexsandra Stanisavljevic