FIFTH ROAD HAS A BRAND-NEW PLAYGROUND!
The Mayor of Newbury, Cllr Gary Norman officially opened the new play area at Fifth Road on Thursday 19 January. The Mayor was joined by children from John Rankin Schools at the event. The playground has had an extensive makeover with new play equipment for younger children, and the children and the Mayor all enjoyed trying out the new equipment.
The children were the first to enjoy the fun new equipment which includes a bespoke Farmyard inclusive unit, and inclusive 'Dolly Seat', Seesaw, toddler springer and Farmyard themed Play areas. Some of the existing equipment has been refurbished too.
The children had a great time trying out all of the new equipment, Oscar said, "It's definitely so much better than it was!' and Mabel enjoyed playing saying, 'It's lots of fun!"
There's a 'playtrail' which offers a more advanced trail experience for older children but can still be enjoyed by younger ones with supervision. Every child can enjoy running, grappling and stepping with a range of balancing activities. The 'swirl-whirl spinner' is a great playground experience to set you in a spin! It has been designed for inclusivity of play and is low mounted with a revolving seat which is accessible to able and less abled children alike.
Children can 'fly like a bird' with the Lillie Swing with a basket. It provides ideal safe and secure seating for children of all abilities to enjoy the thrill of swinging. It also offers the chance for a small group of children to use the swing at the same time.  
Cllr Sarah Slack, Chair of the Council's Community Services Committee, said, "As part of the Town Council's Strategy, we are committed to ensuring safety and quality in our playgrounds and parks. This includes a long-term rolling plan for the refurbishment and replacement of our playground and other park equipment when it reaches the end of its useful life.
"I am delighted that the Fifth Road play area is now complete – it will be great fun for the local children to explore and have this resource on their doorstep. This innovative range of equipment is designed with both fun and safety in mind and has a lot of new inclusive equipment so everyone can have fun!"
This work is being funded from Town Council funds for the benefit of the residents of Newbury. The play equipment was installed by contractors, HAGS and the new safer surfacing has been installed by Star Rubber Environmental Ltd.
Contacts:
Cllr Sarah Slack, Chair Community Services Committee sarah.slack@newbury.gov.uk  07970 790808
Hugh Peacocke, CEO, Newbury Town Council Hugh.Peacocke@newbury.gov.uk 01635 780202

Cllr Martin Colston, Mayor of Newbury Cllr Gary Norman, Cllr Sarah Slack officially opening the new play area with children from John Rankin.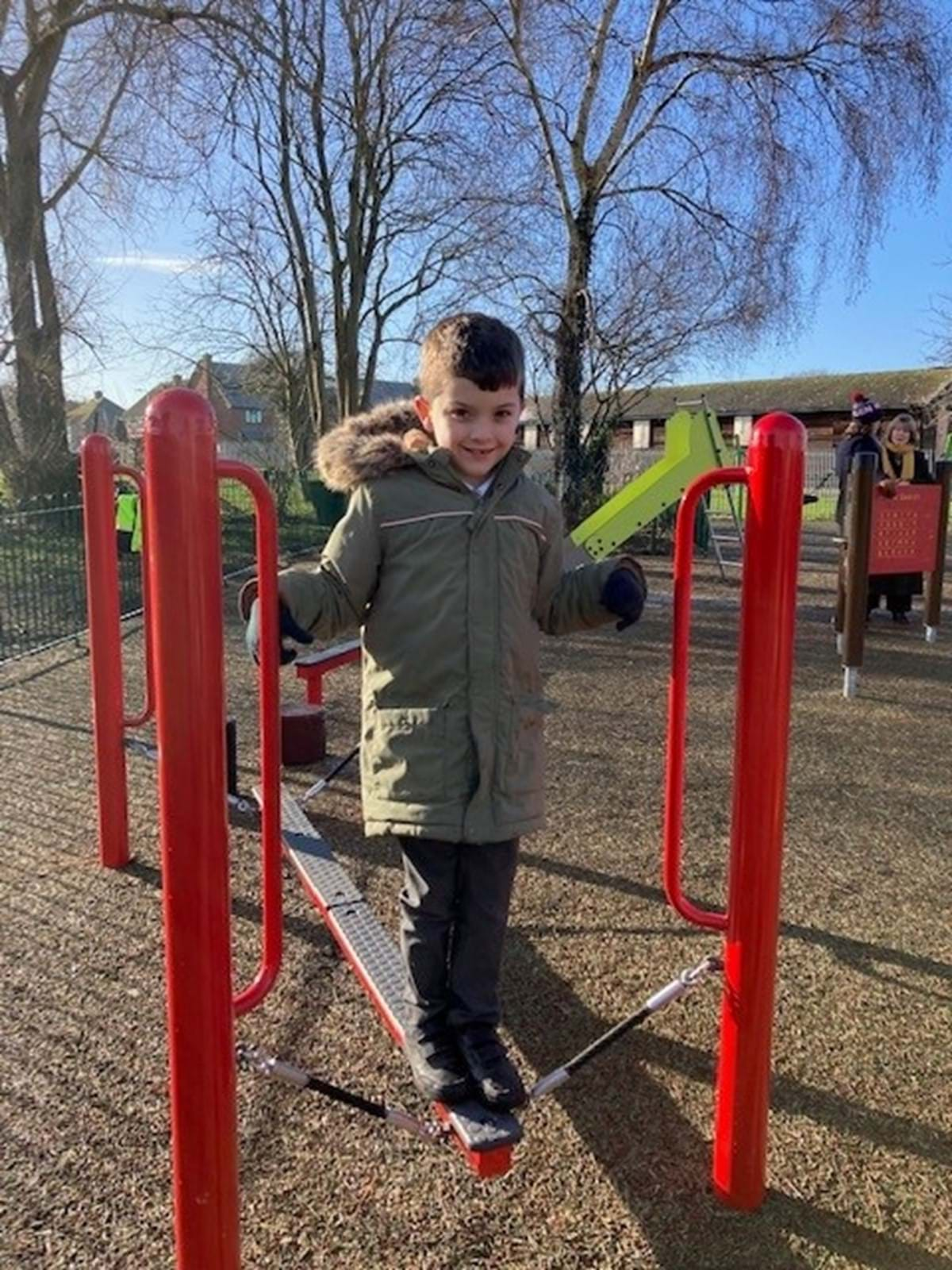 Nate from John Rankin giving the new balance rope a try!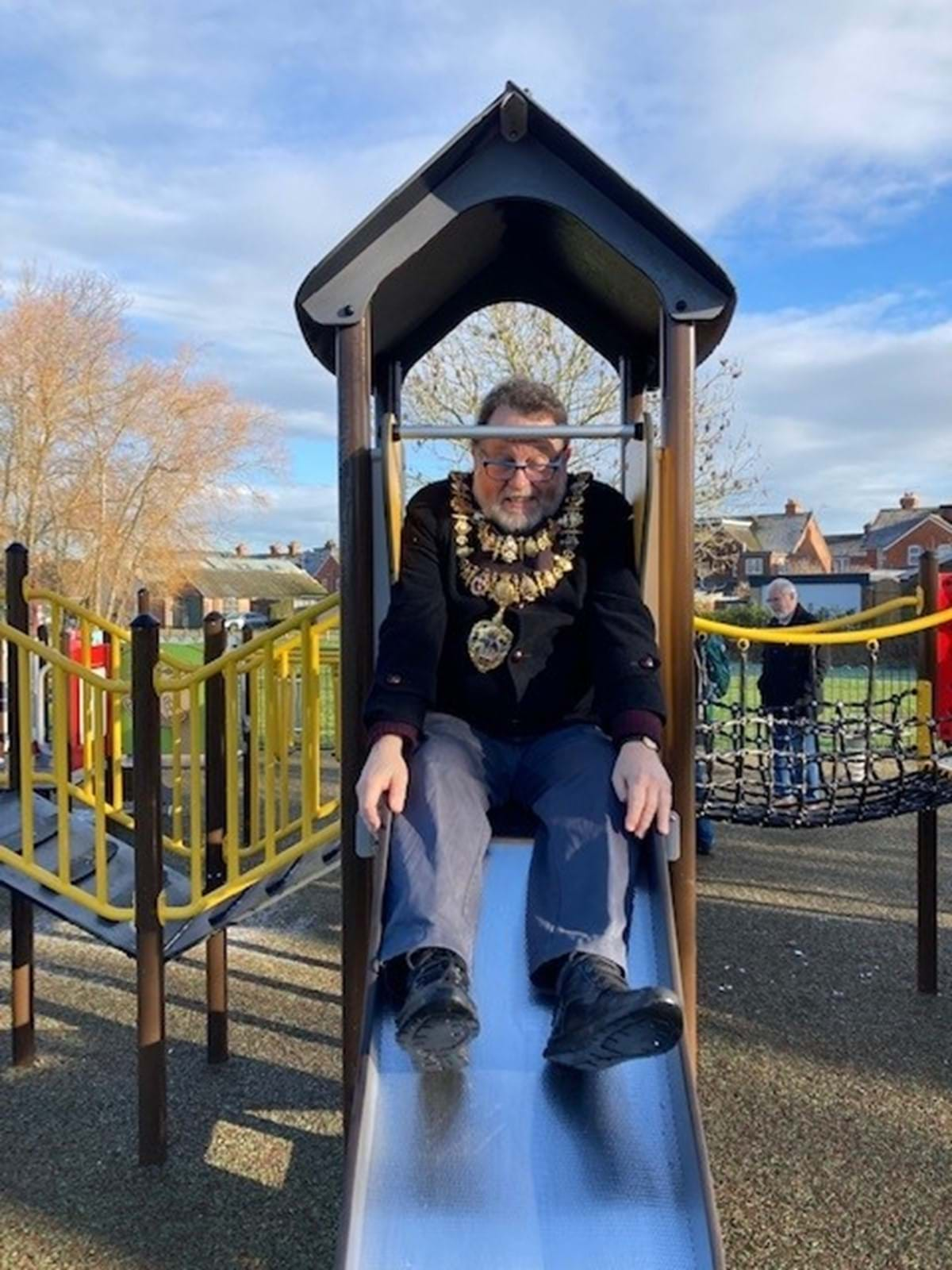 Mayor of Newbury, Cllr Gary Norman trying out the slide!