The Mayor of Newbury, Cllr Billy Drummond, is very excited to launch his year-long 'One in 100' Fundraising Campaign in support of his chosen charity Speakability.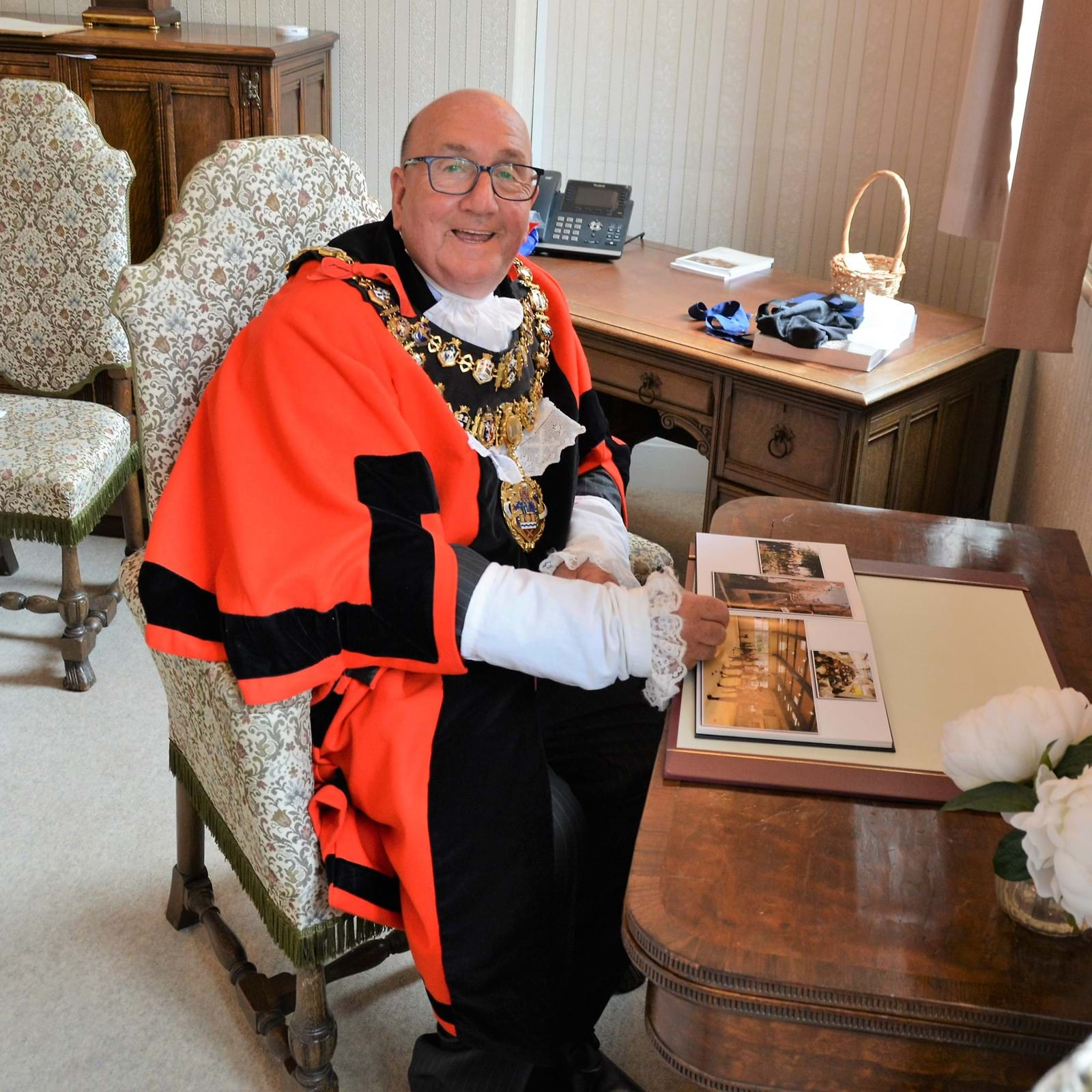 The One in 100 fundraising campaign is asking 100 people to take part in raising £100 for the Mayor of Newbury's chosen charity, Speakability. 
Newbury Speakability provides support to those with Aphasia from Newbury and surrounding areas to help build confidence, develop new skills, make new friends and practice their speaking. Aphasia is an impairment of language, affecting the production or comprehension of speech which is most commonly due to damage cause by strokes, or injury to the brain. 
The charity is very close to the Mayor of Newbury's heart. Cllr Billy Drummond has experienced two strokes and wanted to use his year in office to highlight the incredible work of this local group and the support they provide to local people to develop and improve their speech in social environments. 
The aim of this campaign is for 100 people to take part in fundraising, or making a one-off donation, of a minimum of £100 each. If successful, this will raise at least £10,000 for Newbury Speakability by April 2022. 
Register to take part in the One in 100 Campaign Here
Frequently Asked Questions about the One in 100 Campaign.
Funds from the campaign will help support Newbury Speakability in funding: 
A state-of-the-art accommodation for them to run their services which are disability friendly, with parking and with appropriate sound requirements. 
Qualified speech therapy for members. This is currently priced at £70 per hour. Sessions would be available for individuals and to run as small group sessions. 
Sufficient transport which is disability friendly for members to attend sessions 
A new, accessible website 
To help raise awareness of Aphasia and to tackle the stigmas that come with being a stroke survivor. 
The One in 100 Campaign is a year-long event during the Mayor's term in office. 
This means that you are able to participate at any time you want. The deadline for all fundraising and donations will be 31st March 2022.
So, if you would like to have a think about what kind of fundraising you would like to do, take part in a longer fundraising challenge which will be over a couple of months, or would like to donate later in the year, you are more than welcome.
The answer is anything you want! You are welcome to either take part in your own personal fundraising challenge; examples such as a bake sale, sponsored silence, run a marathon, 24hr danceathon, 100 swimming laps, sponsored head shave, selling crafts could done, and all fundraising ideas are welcome.
Yes! We understand that not everyone will be able to take part a fundraising activity or a challenge. So we are very happy to accept any generous one-off donations of £100 which will still mean that you are part of the 'One in 100'.
Absolutely anyone can take part, no matter your age or background. Everyone is welcome to raise funds for the Mayor's charity.
You can take part by registering your details in the form below, or by contacting the Mayor's Office by emailing mayor@newbury.gov.uk or by calling the Civic Manager on 07538 334 106.
All participants will be provided with a Unique Participant Number once they have signed up. This will help us keep track of every person who is taking part in the campaign and how much is raised in total. 
We also want to know every individual taking part and a little bit about what they are doing to support the campaign so the Mayor is able to support you where he can.
It's also important that we have your details to provide you with updates about the campaign and progress the campaign is making, and all registered will be provided instructions on how to transfer funds.
Setting up your own fundraising activity or challenge can be daunting. Here are some ideas that may inspire you:
Bake Sale
Selling Plants or Crafts
Car Boot Sale
Sponsored silence
100 Mile Cycle
Running 100 laps of your garden
100 bounces on a trampoline for 100 days
Selling tickets to friends and family for an event at your house (e.g Afternoon Tea, Use of Hot Tub, Movie Night)
Selling Old Clothes Online
Gift Wrapping Service (save this on for Christmas!)
Games Night
Dog Walking
Car Wash
24hr Exercise Class (E.g. Zumba, danceathon)
Guess the Name of the Bear/Sweets in a Jar/Weight of the Cake
Raffle
Dry January (or any month)
Once you have chosen your activity or challenge, pick a date for it to start or take part, let all your family and friends know, and enjoy it! Make sure you let your family know that you are taking part in the Mayor's Fundraising Challenge and how the money will support Newbury Speakability.
If you have any questions about the campaign, please contact the Civic Manager by emailing mayor@newbury.gov.uk or calling 07538 334 106